Chemical Resurfacing & Microdermabrasion in Central Florida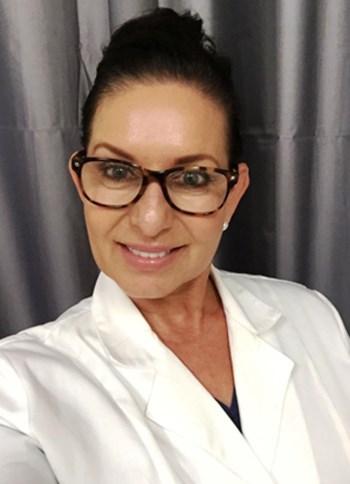 Trina Nesselrotte
Clinical Skin Institute
Trina Nesselrotte, MSN, APRN, A-GNP-C.
Board Certified Nurse Practitioner
Licensed Aesthetician
Certified Medical Laser Technician
551 Fieldcrest Drive | The Villages, Fl 32162
352.303.1103
clinskin@aol.com
Trina Nesselrotte is a board-certified adult/gerontology primary care nurse practitioner, a licensed medical aesthetician, a registered nurse, and the owner of Clinical Skin Institute since 2006; a full-service aesthetics and skincare practice. Trina is nationally certified in advanced chemical peels and laser resurfacing and has extensive training in recognizing and treating skin conditions. With over 16 years of experience in clinical aesthetics, she provides patients with custom results-driven treatments that enable patients to achieve and maintain their skin health goals. Professional services include numerous therapies for anti-aging, sun damage, hyperpigmentation, sensitive skin, as well as acne. Ongoing collaborations with plastic surgeon Dr. Fernando Serra allows Trina to provide services that enhance and complement all cosmetic surgical procedures. Patient education remains a priority within the practice and Trina strives to provide each patient with in-depth knowledge and understanding of skin conditions, home care regimens, and appropriate treatments; facilitating the development of an individualized plan of care. With a constant pursuit of higher education, patient-centered care, and ongoing collaborations, Trina continues to provide patients with safe, affordable, and effective high-quality personalized aesthetic and skin services.
Are you interested in improving the health, quality, and appearance of your skin? Our office will provide you with useful information about the many PCA SKIN® professional treatment options we provide. Individualized treatments will be chosen specifically for you by the licensed skincare professional and may include chemical peels, masks, and other advanced exfoliation solutions that best address the unique needs of your skin. Whether you are trying to smooth fine lines and wrinkles, improve the texture of your skin, even out skin discoloration, reduce redness or clear acne-prone skin, we have a treatment that is right for you.

Chemical Resurfacing Treatments.

Acne Treatments
Our customized breakout-clearing treatments simultaneously address the four main causes of acne, leading to an even, clear complexion. We infuse the skin with antibacterial, acne controlling ingredients.

Anti-Aging Treatments
Our rejuvenating treatments are customized to treat and control fine lines, wrinkles, sun damage, uneven texture and laxity. Regular treatments help to achieve and maintain a fresh, bright, youthful complexion.

Hyperpigmentation Treatments
Are you troubled by dark spots from the sun, pregnancy or past blemishes? Regardless of the reason for your skin discoloration, our customized treatments address the underlying causes of unwanted pigment to even-out your complexion.

Sensitive Skin Treatments
If you suffer from rosacea or skin that always seems red and irritated, we provide gentle treatments especially for your skin needs, infusing the skin with anti-inflammatory, redness-reducing and skin-strengthening ingredients.

Physical Resurfacing Services

Microdermabrasion
Physical exfoliation using aluminum oxide crystal that results in smoother, brighter skin that is customized with the appropriate treatment serums and replenishing moisturizers.

Dermaplaning
A physical exfoliation that removes the outer layers of dead skin using a surgical blade removes unwanted hair while leaving your skin smooth, rejuvenated, and glowing.

Collagen Induction Therapy (CIT) session

Micro-needling

The technique involves using multiple tiny, sterile needles to puncture the skin and cause physical trauma. This trauma prompts the dermis, a deeper layer of skin, to rebuild. The purpose of treatment is to generate new collagen and skin tissue for smoother, firmer, more toned skin. Micro-needling is mostly used on the face and may treat various scars, wrinkles, and large pores.